I'm feeling architectural so I've found these two homes. One I really really like and one well I'm not sure I have words to describe it. I'm sure they'll arrive by the end of this blog.
.
How good is this design.....
.
"Entry is via a long and dramatic bridge to a viewing platform from which one ascends a staircase into the house,"
.
Kitchen, dining room, living room, and master bedroom are encountered in sequence as one moves upward through the structure.
.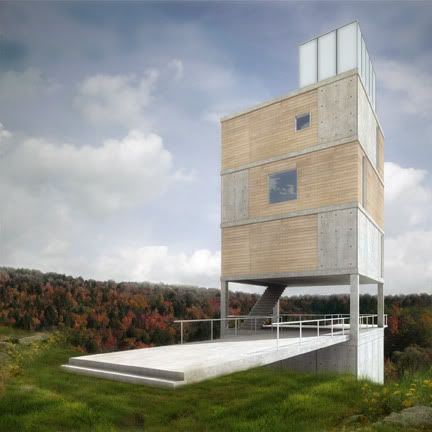 You eventually arrive at an "open air garden... situated on the roof."


Now I could live in the above and host some most awesome parties. However I would never have enough money to live in the below, nor would I want to I think. It's going to cost $2 Billion to build (which is insane)...

Atop six stories of parking lots, Antilla's living quarters begin at a lobby with nine elevators, as well as several storage rooms and lounges. Down dual stairways with silver-covered railings is a large ballroom with 80% of its ceiling covered in crystal chandeliers. It features a retractable showcase for pieces of art, a mount of LCD monitors and embedded speakers, as well as stages for entertainment. The hall opens to an indoor/outdoor bar, green rooms, powder rooms and allows access to a nearby "entourage room" for security guards and assistants to relax.


But you would kind of think for that money it would be nice, hmmmm. I can think of better things to do with that much money.........so many things.