On a cold blustery night amid the onset of a head cold what do you do to cheer yourself up. Well I have a plan for these sort of things. First up you jump in the car then swing by and pick up your two fav ladies
Karks
and
Gen Gen
, then slide on down to Cottesloe to pick up mum and dad (aka
Perry and Annie
), down some champagne at their house then slip down the road to Il Lido on the Cottesloe beach front.
This place is now firmly in my top 5 restaurants of Perth. A list that even I have trouble remembering and there may in fact be 7 in my top 5 but eh....
A
Fellini
film (
La Strada
I think) flickering on the wall across from us, fantastic antipasti plates to share followed by an awesome crab and yabbi risotto. This is the clincher you see, risotto cooked to order, not many places do that, most precook the rice and then finish it off quickly as needed..this of course would be a paella and well don't get me started on shitty restaurant habits...we don't have enough room or time for that.
We decided to drink Italian wines in honour of Karks and my recent trip to Italy, which resulted in some great and not so great vino experiences. We chose well last night though, one of which was decanted, which made me think of these great decanters I saw the other day, made by
French sculptor Etienne Meneau
and yours for just 2200 euro. Good luck figuring out how to clean that thing!!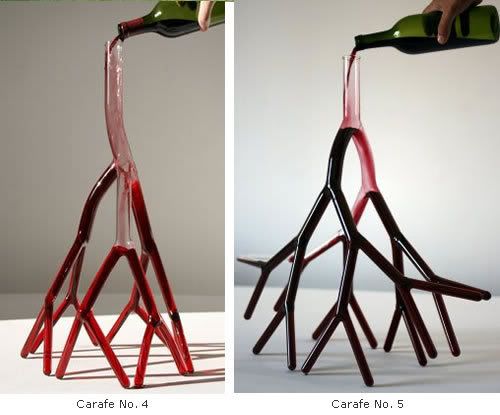 Still feel ordinary today but I think I may have dodged it, fingers crossed, cos I have so much to do over the next few days. My Vespa has arrived and is desperately wanting to come to my place....more on that soon.