As usual I'm away for a friends birthday, this time Waz's, so we hooked up tonight along with Gaz and Steph(v)en - covering all bases there - and ducked down to FU Restaurant in William St. It's right next door to Icey Ice, not sure if that helps at all, probably not. It's an Asian Fusion Restaurant with some traditional, or Heritage as they call them, dishes thrown in for good measure.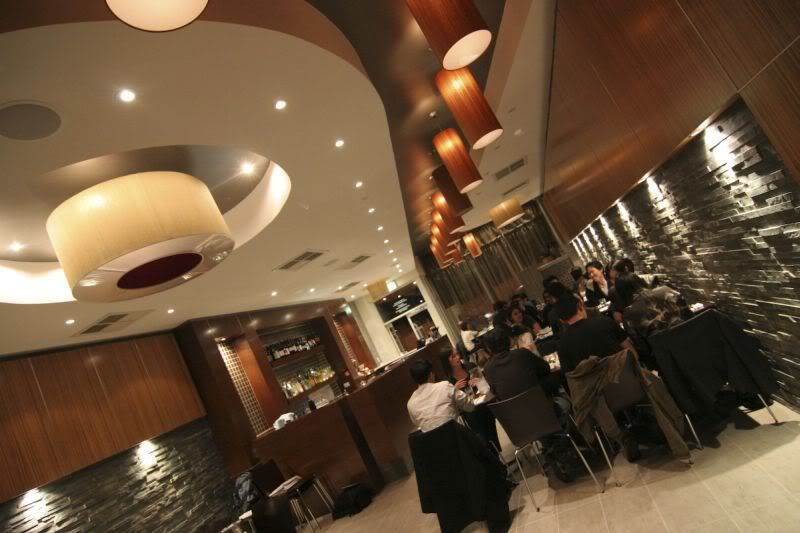 We went for entrees and mains and probably should have just had mains as the entrees where huge. Lets see, we tried the Thai fish cakes (a tad disappointing as they were pretty rubbery), the soft shell crab, very very good, rice paper rolls (funky presentation) and chicken satay (very nice), fairly traditional dishes and nothing really fusion about them but they, for the most part, had that little bit extra going for them.
It was the main courses that shone though. Sadly we all felt like eating duck tonight so there wasn't a lot of variety on our table, 3 x Crispy Szechuan Duck with Prawns in wasabi aoili and 1 x Red Emperor fillet in a coconut cream sauce (I think that's what it was), all of which were absolutely fantastic, especially the duck. Wow!
All washed down with a lovely Sauvignon Blanc from .....? (fill in the gaps Waz) and a 2004 Galli Estate Pinot Noir from Victoria which was pretty damn fine.
If you want to eat a little Asian fusion and not pay a fortune and do it in some funky surrounds then check this place out. I'll definately be spreading the love, oh and mains are all between $18 and $22 (I think, don't quote me, yes I suck at restaurant reviewing)
There's a heap of pics from a degustation dinner held there a while back in this flickr set, I hope they don't mind me borrowing one of their pics.