I don't usually post news stories but when a cafe in my neck of the woods explodes during breakfast service I have to mention it. Tarts cafe on Lake st is a nice place to drop in for brekky and/or lunch but I'm pretty glad I didn't head there this morning and happy to hear that my buds Waz and Gaz who were heading there for brekky changed their minds last minute. Imagine if you were seated at the table for 2 in front of the window...yikes!! If it wasn't so muggy and hot today I'd cruise down and snap my own pics,
instead I'll use the wests one
....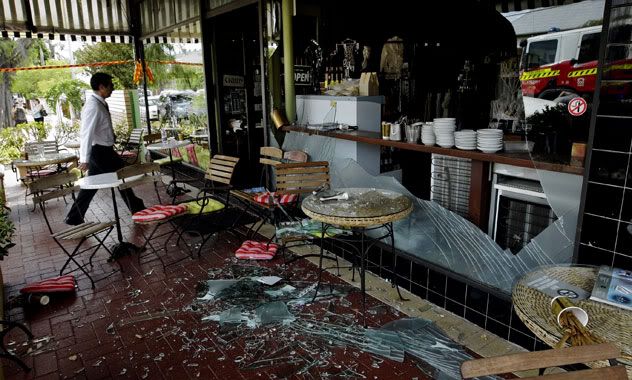 Two chefs were seriously injured this morning when a cooking spray aerosol can that was sitting too close to a gas stove top burst into flames.

The male chef and his female colleague were cooking breakfast this morning at the Tarts Café in Lake Street, Northbridge, when they were blown off their feet by the impact of the explosion.

They sustained injuries to their face and hands and were rushed to hospital by St John Ambulance officers.

The impact of the blast, which Perth fire fighters described as a "fire ball" punched a hole through the café's front window sending shards of glass flying across Lake Street.

Customers dining at the café's alfresco area were not hurt.

Perth fire station officer Rick Curtis said the incident proved how dangerous a common household item such as an aerosol can can be when left too close to a heat source.

"We all have items at home and it just shows that we always need to be careful," he said.

Café owner John Vallini said he could not believe what had happened.

"It was a terrible experience," he said.

"There was a loud bang and when I looked up I saw that the chefs had been injured.

"I'm still in shock.

"It is something I never want to go through again.

"It just shows that you can never be too careful."

Witnesses told thewest.com.au they did not hear the explosion but saw people evacuating the cafe.

Shattered glass littered the road as patrons walked from the scene.



Picture and story courtesy of
thewest.com.au