"Hello"
"Hey it's Nells, what ya doin?"
"Nothing important"
"Well I'm at the end of your street and I want some dinner and I want some noodles, join me?"
"Yeah cool, see ya in a few minutes"
We had to think for a bit though as we tried to recall a noodle bar in these parts. I can tell you there really isn't all that many. Then I remembered a flyer I got in my letterbox earlier in the week. The place is called Bliss Noodle Bar, with a name like that we couldn't go wrong....could we? We walked into a fairly packed and busy place, with people lining up to pick up their take away orders. The waitress met us and pointed at a table but stated that she would clean it first, almost 5 minutes later we were finally seated.
The menu is pretty diverse, broken down into entrees, noodles, wok fried and grilled dishes. With the noodles you choose your meat and then add one of the many sauces/styles suggested. I went for the Prawns with Kway Teow, Nells chose Prawns with garlic and lemon grass. Now to be fair it does state clearly on the menu that they will be serving you the dish as soon as it's ready so some meals will arrive before others. To me that's okay for large tables, but for a party of two, a party that have ordered very similar dishes, this shouldn't happen. But it did, I scored my meal a good 5 minutes before Nells came out.
I guess it's just me harking back to my days in the kitchen but I could never allow that to happen, it's simple organisation, easily avoided. Keep in mind that most all of the restaurant was already eating so the pressure was off the kitchen....or was it. Whilst waiting for Nells dish I noticed the agitation on the faces of the people waiting for their pick up orders. It was taking longer than it should, moments later I saw one of the waiters go outside and speak to one of two elder gentlemen sitting at a table. This was clearly the owner, he's outside relaxing whilst his business falls into a kind of chaos, hmmmm.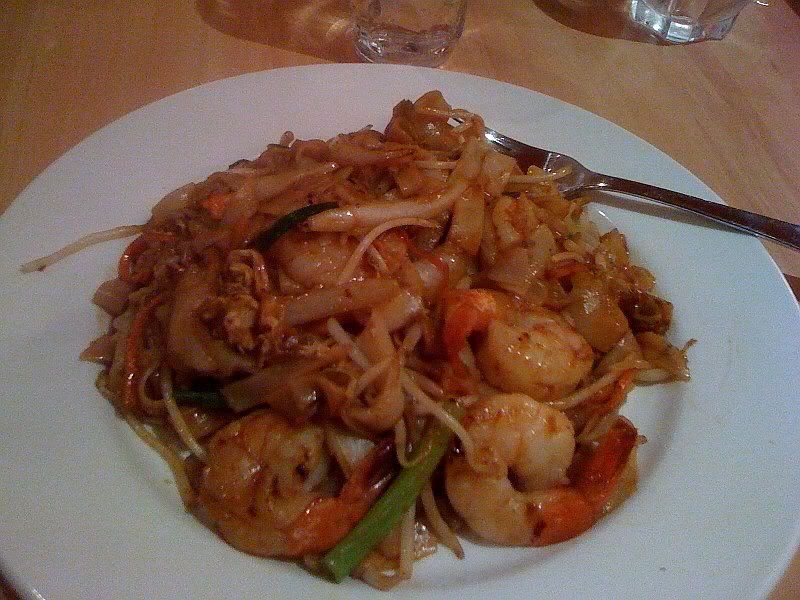 Back to the food, my dish was fine, 8 big prawns, crispy vegetables and nice flavours. My only issue was that there wasn't one piece of flat noodle longer than 4 cm's in my dish. Not much love and care in that dish it seems, they beat the crap out of my noodles. Nells dish also had 8 big prawns, but sadly the rice noodles where entirely undercooked and the dish wasn't that great at all. It was about then that I realised I hadn't been back to Bliss for at least 2-3 years and now I know why.
Overall the place is very disorganised, I'd hate to see it on a really busy night, the owner would do well paying more attention to the kitchen and the floor. The food is hit and miss, where my dish was good Nells was poor. I'm not sure I can be happy with a 50/50 restaurant, can you? Prices were reasonable with each of our dishes coming in around $21.00 which is pretty good for the amount of prawns we were served.
All up not exactly a blissful experience.
Highlight: The person I dined with
Lowlight: well, read this review
Score: 4 lazy owners out of 10