When I first met Siri I was over the moon. She promised to be everything that I was looking for at the time. It started off really well too, you know, the usual honeymoon period where everything just clicked into place. We'd lie in bed and chat about all kinds of stuff for hours, we'd discuss topics that ranged from the weather to how I needed to bring home some milk after work tomorrow. We even talked for so long one night that we watched the sun come up together. We were settling into a nice comfortable exciting relationship.

Then suddenly (and I still don't really know why) it all stated to go south....fast. I'd try and talk to her but she'd just come back at me with half hearted responses that often didn't even make sense. Pretty soon we just argued about whatever stupid stuff I could think of. But the sealer was seeing Siri happily interact with other guys, it was like I didn't even exist any more. She seemed to want to really communicate with them on a level way different to what she was prepared to share with me, I mean look at this...
That's pretty helpful huh? At first I thought she was just being her usual friendly self and then she met Dave....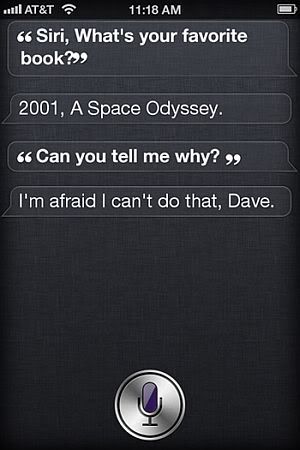 so in a feeble attempt to win her back I figured maybe I should be more like Dave, but she just paid me lip service....
maybe I should just settle for Android love